Ideas for Great Fall Picnics
This is my favorite time of year, September and early October.  I love the cooler weather, the crisp bite in the mornings.  I love the mountains in the fall, the medley of bright colors in the forests, the deeper blue sky that seems to go forever, the earthy smells of fallen leaves, and the crunch of dry leaves underfoot.  I love the crystal clear waters of gentle streams after the water has dropped in the fall with their quiet babble as they find their way over smooth stones.  It's my favorite time for hikes and picnics in the woods.
We have an article on our site, "The Last Picnic of Fall," that's worth reading.  Here's some advice found in that article.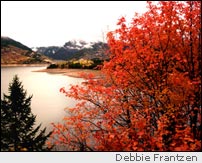 "Like any picnic, preparation is a key to a pleasant outing, but for a trip like this, the preparation shouldn't take long.  A picnic checklist will assure that we don't forget anything. The checklist will be little different than the summer's list.  We'll make sure that we have warm jackets just in case the weather changes.  Hats will be stuffed away in case of a chilly wind.  We'll have some matches cased in a waterproof container if we are going to be away from the car.  Binoculars and a camera will give us the opportunity to capture those mallards in fall plumage or maybe a moose with his antlers stained red from his recently shed velvet."
Merri Ann and I are planning on slipping away next weekend.  We'll probably go to Salmon, Idaho, and stay at a lodge we know there.  Salmon is a long ways from nowhere, on the edge of the largest wilderness area in the lower 48.  There are plenty of back roads and trails to explore.   That means a lunch stashed in a cooler in the trunk.  If we want to take it on a hike, we'll have frozen containers (Blue Ice) to stick in our packs to keep it chilled and safe.
Merri Ann is gluten-free, celiac, so we won't pack sandwiches.  I'm planning on salads, probably three—a green salad with slices of chicken, a potato salad, and a fruit salad.  If I run out of time, instead of cooking potatoes, I'll fix a package of flavored dry mashed potatoes, like Alderwood Smoked Bacon or Romano Cheese, and make a mashed potato salad.  That's quick and easy.  (We have a whole e-book of mashed potato salad recipes.)  That way, I can make all three salads in less than 45 minutes.
On hikes like this in the past, I've taken along Rice Krispy® Treats.  But they won't be ordinary treats.  I'll add chocolate or nuts or maybe a jar of jam to make "adult" treats.  I'll find something in our e-book about Rice Krispy treats—maybe Marionberry White Chocolate Treats since I know Merri Ann likes those.
The weather this time of year should be perfect.  I'm picturing sitting high up in a remote little canyon watching the evening shadows creep across the canyon floor.  In my mind, we're too high
to hear the brook, but maybe we'll see a deer come down to water or a coyote poke along the willows against the stream.  I'll hold Merri Ann's hand and tell her I adore her.
It will be the perfect evening.
The outdoor images in this post were taken by my daughter, Debbie Frantzen, of fall locations in Eastern Idaho.—Dennis Weaver
To get more like this . . .
We're baking in our test kitchen every day. If you would like the best recipes and methods from our test kitchen, just tell us where to send them.
Enter your email address here. You'll get tested recipes and proven methods to make the very best desserts and treats.